Disconnect MK1
Description
09.10.2023 NOTE: Out of stock. Will update page if we get more stock.
Join our discord for discussion https://discord.gg/F9Z56z5BgC
---
The ultimate keyboard for work and play.
Designed and assembled in Finland.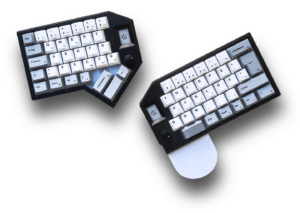 Sound test and trackpad demo
---
Information
Fully wireless, support for multiple on-board profiles for quick switching between machines.
Long battery life with dual 3.7v 1100mAh batteries.
Dual encoders with aluminum knobs.
Dual ePaper displays with customizable content.
Fully custom trackpad solution with a resolution of 2000×2000 and intuitive gestures inspired by MacBook laptops. Top sheet is a laser cut sheet of polystyrene which is scratch resistant and very easy for your fingers to glide on.
Custom PBT-dyesub keycaps designed and manufactured specifically for this keyboard.
Aluminum plate.
Durock hotswap sockets.
Plastic case with foam inserts to dampen sound
Foam between plate and PCB, this gives the keyboard a nice thick sound profile. This page will be updated with sound tests and videos.
NOTE:Only use your PC's USB-A ports for charging. Using a wall brick, docking station with external power or monitor port might cause damage to your keyboard, harm the battery or even brick your device. Some of the afromentioned power sources might briefly give too much voltage and damage the charging circuit, the processor and/or battery.
---
Switches
---
Layout

---
Dimensions and materials
Dimensions
Left side: 173mm x 147mm x 16mm, 340g with switches and keycaps
Right side: 201mm x 165mm x 16mm, 385g with switches and keycaps
Trackpad active area: 63mm x 55mm
ePaper displays are 1.02 inch with a resolution of 120×80 @ 141 DPI
Encoders with a 15mm short shaft.
Material
High quality finish 3DP-ASA case manufactured by a factory in the EU.
---
What is included?
Non-DIY kits:
Disconnect MK1 Keyboard with customized plaque stating your order number (eg. 1/100, 49/100…)
Switches of your choosing
Custom keycaps including all variations. We will prepopulate the layout you choose.
Keycap/switch puller tool
3x extra switches for maintanance purposes.
USB-C – USB-A cable
DIY-kits:
Disconnect MK1 Keyboard with customized plaque stating your order number (eg. 1/100, 49/100…)
Keycap / switch puller tool
USB-C – USB-A cable
---
Q&A
Why only 100 keyboards?
We are a small team and we want to minimize the wait time after placing an order. Manufacturing a bigger batch would stretch the delivery time.
Why 389€ for a keyboard?
Manufacturing is expensive for small quantities. We could make the manufacturing process cheaper for us by using cheaper encoders, switches, generic keycaps etc. but we want this product to be as good as possible for everyone to enjoy.
Where do you ship and what is the shipping cost?
We ship Worldwide. We offer free shipping to EU. You can calculate shipping cost to other destinations after you have added a product to your shopping cart.
How can I pay?
Currently we use Stripe as our payment processor. You can pay via Credit Card or direct SEPA deposit. We do not save your Credit Card information as it gets passed directly to Stripe.
What switches and keycaps are compatible with the Disconnect MK1?
Most plate mounted MX-style switches are compatible and MX-style keycaps. If you are unsure, you can send us an email and we can check for you and make sure your switch or keycap replacement goes smoothly.
What platforms does it support?
The keyboard has been tested to work with Windows 10/11, macOS, Linux (xorg and wayland) and Android. The device should work as expected on other operating systems as well but they are not verified by us.
How do I update the firmware?
The keyboard uses an "UF2 Firmware" which means you can update the firmware without any tools you need to install on your computer.
Upgrade instructions:
Set the keyboard to bootloader mode by tapping FN+Encoder button or pressing the reset key twice on the bottom of the board.
Computer should show the keyboard as a mass storage device, navigate to the mass storage device
Drag and drop or move the file into the mass storage device. After this it takes a few seconds and the keyboard reboots into the new firmware.
Will you do an ortholinear version of this keyboard?
Right now we put all of our focus to this one skew. There might be an ortholinear version in the future if there is enough interest, you can voice your interest by shooting us an email or telling us on Discord. All feedback is appreciated.
What does hid:ergo mean?
HID = Human Interface Device. Ergo = ergonomics.
Additional information
| | |
| --- | --- |
| Weight | 1,5 kg |
| Dimensions | 44 × 25 × 7 cm |
| Color | Slate Black, Charcoal Grey |
| Layout | DIY-kit, ISO-UK, ISO-DE, ISO-FI/SV, ISO-NO/ DK, ISO-ESP, ANSI US |
| Switches | DIY-kit, JWK T1 (Tactile), JWK Nylon Black (Linear) |